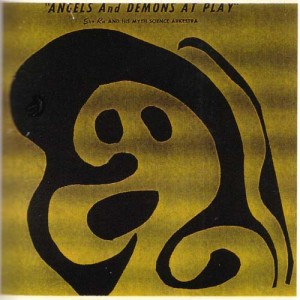 Sun Ra and His Myth-Science Arkestra – Angels and Demons at Play El Saturn Records LP 407 (1965)
---
The arrival of Marshall Allen to the band in no small part allowed the Arkestra to fully realize the afro-futurist elements in Sun Ra's music beyond song names and album jacket poetry.  Allen's flute and Phil Cohran's zither do a lot to distinguish the recordings that make up side one from material with distinct big band reference points on side two.  The exotica of someone like Les Baxter was starting to seem a more apt comparison than Fletcher Henderson in those instances.  Great stuff and really a worthy stop on any journey through the Earthly recordings of Sun Ra.
The opener "Tiny Pyramids" (written by Ronnie Boykins) is a dead ringer for Buddy Collette's "Blue Sands" (as recorded with Chico Hamilton's Quintet) — both open with irregular drumbeats then have prominent minor key flute, with a middle-eastern flavor, though Sun Ra's version has prominent two-part harmony unlike the Hamilton recording.  "Between Two Worlds" makes use of staccato arrangements, with harmonies from the horns broken up so that what could maybe pass for a typical detective movie or TV show chart is stripped of its familiarity and becomes more unsettling.  The music on side one gets progressively more otherwordly, with Cohran's zither playing high-pitched strums that cut like shards of glass, and bassist Ronnie Boykins occasionally playing arco (with bow).
As Sun Ra frequently programmed albums in the early/mid 1960s, side two is completely unlike side one.  The Arkestra is playing big band music with more typical horn solos trading off each other.  Side two was recorded four years earlier than the material on side one, with basically an entirely different set of musicians (only John Gilmore and Sun Ra appear on both sides of the album).  "A Call for All Demons," with a few "tick tick" rhythmic figures on a wood block, quizzical horn charts, and Ra plunking out tipsy individual notes and short clusters of notes on the piano, is one probably the best-known song from the album.  It shifts from dramatic and ominous arrangements with plenty of space to more regular boppish soloing, then it's on to Ra playing electric keyboard briefly before seguing back to an arrangement like the opening of the song.  It is a mean feat that Ra is able to accomplish the shifts between quite different styles as seamlessly as he does, compressing a mini-suite into a performance just over four minutes long.