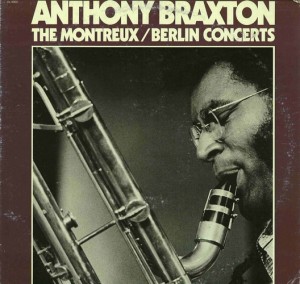 Anthony Braxton – The Montreux / Berlin Concerts Arista AL 5002 (1977)
---
One of Braxton's finest releases.  It pulls together a lot of what he was up to throughout his career to this point.  Everyone in each of his groups featured here is in dynamite form and willing to stretch on every performance, which removes the possibility of the compositions sounding merely academic.  The improvisation is unrelentingly fresh and inspired across the whole album, and never drifts into mediocrity and convenient formulas.  A classic.
The Montreux/Berlin Concerts is one of many highlights from Braxton's tenure on the Arista Records label.  It features performances from two different European festivals in 1975 and 1976.  The recordings are mostly from two similar quartets with Dave Holland (b), Barry Altschul (d), and either Kenny Wheeler (t) or George Lewis (tb), plus one side-long recording with The Berlin New Music Group.  In many ways this is a culmination of many things Braxton was doing through the 1970s. Much like a comedian who will test out new material in various venues first and then repeat the best and most successful bits and routines for a big show or video/recording, Braxton is not so much trying out new methods here (with the exception of the orchestral track with The Berlin New Music Group) as much as delivering something with techniques he (and his bands) had already perfected.  What makes the album so special is that there are some very fine performances here.  Arguably, Braxton never led a small combo better than the ones here, even if he led other ones as good or nearly as good.  And these are stellar performances even from this impressive cast of characters.  In Braxton's world, he deals with "musical informations".  There is certainly a lot of information being exchanged on these sets.  Each performer is contributing — solo, spotlight time is shared fairly equally.
When Braxton was the first jazz signing to the new major label Arista, he promised to be some kind of crossover success (see the liner notes to The Complete Arista Recordings of Anthony Braxton and a November 2008 essay in The Wire magazine discussing its release).  Leading up to his tenure with Arista, he had recorded works that extended into the territory of modern composition (of the likes of John Cage and the Fluxus movement), but he also worked with more traditional jazz material.  He drifted back and forth between the twin poles of traditional jazz and avant-garde composition.  But most of the time these were shifts between isolated modes, not truly a "crossover" in the sense of a meeting and melding.  On The Montreux/Berlin Concerts he does cross the divide between traditional jazz and modern composition, achieving a synthesis of both within any given piece.  There is definitely a sense of connection to traditional jazz throughout.  Often a bouncing, free-wheeling, syncopated beat as if from an old Fats Waller tune will be unmistakable.  Yet the speed and density of it all will not permit confusion with anything from Waller's era.  The intervals, squeaks and new performance techniques also push this well beyond just the tradition.  Again, though, this is crossover music, and so this music is not completely of the "new music" realm of abstraction.  It inserts, modifies, expands, deconstructs, and borrows from the tradition at will, but never feels constrained by it.  It is the much talked-about but less frequently achieved notion of playing "inside" and "outside" at the same time.  This is an album by an artist who has developed techniques that allow a unique voice to emerge beyond and in spite of those techniques, that is enjoyable in a way that exceeds the moral limits of traditional musical structures.  It makes for an excellent listen.