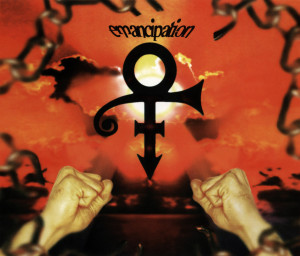 O(+> – Emancipation NPG Records 7243 8 54982 2 0 (1996)
---
Let's take a look at the largest arcs of Prince's career, to better understand where Emancipation fits.  His early days in the 1970s had him doing closet R&B, very much as a one-man show, and very much in line with R&B of the day.  He was singing in a falsetto almost always, and his songwriting wasn't particularly attention-grabbing, though it started to become more and more provocative as time when on.  In these early days, commercial success and popularity came at best fitfully to Prince.  Then came the 1980s.  His star rose higher and higher, and with 1999 and then, most significantly, Purple Rain, he became as big a star as there was in pop music.  Some of his recordings in the 80s were uneven, especially as the decade wore on, but there was good stuff found on anything with Prince's name on it.  He had hits galore.  Into the early 1990s, things definitely changed.  Prince's recordings were becoming a bit patchier, and he was starting to chase after fads like "new jack swing" and cater to what was popularized by others.  There is some terrible stuff in this period, along with some worthy bits and pieces.  The good stuff was fewer and farther between.  There is a hard fact of Western popular music during this larger era that artists usually only have about 5-10 years of relevance before they are cast off in favor of something else.  By the 1990s, Prince had already had his decade.  His response?  Feud with his record label.  He changed his name to an unpronouncable symbol in 1993 (people referred to him as "the artist formerly known as Prince").  After he entered the new millennium, Prince had a comeback of sorts.  He was something of a respected elder of pop music.  But there was a crucial transition during the 1990s.  It was then that Prince's abilities as a songwriter faltered.  The guy could still play, but he was only coming up with one or two catchy songs every few years.  Rather than face up to that, he started the record label feud and engaged in other distractions that kept his name in the press for reasons other than the content of his work.  Now, as to the feud, the man did have a few decent points about musicians getting too small a slice of the pie.  However, those seemed like excuses drummed up after he already wanted to stir controversy.  But into his later period, it was really apparent that this guy was a total professional as a performer.  His was playing as well as ever, even if he wasn't writing new songs of much interest.  This was clear to anyone hearing him play some of his old songs.  He would sometimes change them up and present new versions.  He could still wow audiences that way, mining his back catalog.
In the mid-to-late 1990s, Prince released two multi-disc albums, first Emancipation and then Crystal Ball.  There was the late night sketch comedy program that in the 90s made a fake TV ad for a bank that supposedly only made change, and when asked how they made money responded by saying, "volume."  That gag is built on the same principle as Prince's 1990s multi-disc albums.  He wasn't able to write any particularly engaging new material, but he could churn out new recordings by the bucket load.  These recordings leaned on covers, and also thin re-treads of old Prince songs.  If anything, these years gave him the chance to hone his already-impressive skills as a performer.
On Emancipation, Prince chose to use every ounce of his skills as an instrumentalist. The performances are rich and textured. His band The New Power Generation (NPG) works perfectly as a spotlight on him. Improvisational elements form the core of this work.
"Sex In the Summer" is a fresh reconstruction of Sly Stone's "Hot Fun In the Summertime," complete with nods to other influences like Mahalia Jackson. Prince manages to avoid superficial worship, and delves into lush arrangements. He always liberally quoted other material. This is not cutting corners on the creative end, but benchmarks in a fun way ("Get Yo Groove On" takes a line from "Another Saturday Night").
This is a mature and wiser Prince — now a music "professional". Emancipation still finds "the artist" fuming over past recording contracts, but he's rarely bitter. With over three hours of music, he does have plenty of opportunities to touch base on just about anything. Though the song structures are fairly traditional, that more directly emphasizes his change in direction. While Emancipation isn't quite the accomplishment as his legendary 80s material, it isn't so far behind that you don't recognize Prince as Prince. This is likely an album only intense fans will take a chance on, but it doesn't have to be that way. Prince knows how to make music people will like, and this album is far more accessible and durable that it seems.
There is a lot to Emancipation. More importantly, there is a lot to like about it.  It's an album that many will probably find more enjoyable and listenable than expected, though there isn't much on it to convince you to listen in the first place.