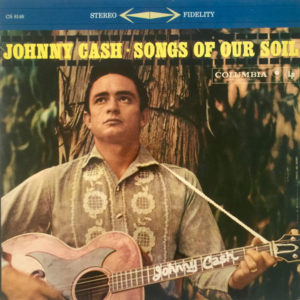 Johnny Cash – Songs of Our Soil Columbia CS 8148 (1959)
---
Songs of Our Soil was an important album in developing the sound of most of Johnny Cash's albums of the following decade.  The Fabulous Johnny Cash had mostly continued with the same reverb-laden minimalist country with a rock-inflected beat and emphasis on love songs as on Sings the Songs That Made Him Famous.  But here the guitar is less loud, and things like a piano feature on occasion too.  Backing vocals by The Jordanaires are frequent.  Cash's voice is a little more distinct and prominent.  Reverb and twang are quietly diminished.  The result is something a little more folk than country sounding, with a sophistication more palatable to pop audiences.  This seemed to arise from a time when Cash's overt attempts at success had already been made, and having used up those commercial ideas he tended to just kind of go with the flow in more eclectic settings — a bit like small-scale Nashville versions of the great Los Angeles "Wrecking Crew" recordings from the 1960s.  The homegrown character of a guy who managed to maintain a successful music career through the rest of his life on "his" terms still shines through in an effortless kind of way.  It all works pretty well.  Cash does seem just a little stiff in places though, and some listeners don't seem to care for the backing vocals.  But when in later years he swapped the male backing vocals for female ones from his future wife June Carter and members of The Carter Family, things settled into the form that worked so well on many albums to come.
When it comes to the songs, a lot deal with death, but more importantly they conjure up Americana themes a lot like the view of pre-industrial America later featured in the film Days of Heaven.  Cash avoids too many romance songs and manages to focus on farm and country life without any hint of rural naiveté.  This might be called the first concept album he did, though the concept is pretty mild.  The opener "Drink to Me" is an adaptation of the old English song "Drink to Me Only With Thine Eyes" (which was based on a 1616 poem by Ben Jonson derived from Greek verses by Philostratus).  On the posthumously-released Personal File Cash revealed that it was the first song he ever performed publicly, for a high school event.  It also was the song the little owlet Owl Jolson didn't want to sing in the classic 1936 Merrie Melodies cartoon by Tex Avery "I Love to Singa."  "I Want to Go Home" is also an adaptation, of "The John B. Sails," which would be performed with greater success by The Beach Boys as "Sloop John B" on Pet Sounds a few years later.
Most listeners will probably want to head to other Cash recordings first, and come back to this if they like his early 60s material to see how he arrived there.  This one is still pretty welcoming, suitable for repeat listens, and really one of the more durable albums of Cash's whole career.  It isn't just an offering from the "Johnny Cash" persona.  It comes closer to revealing the guy who created the persona of "Johnny Cash" than anything else to this point, and even much of what came later.