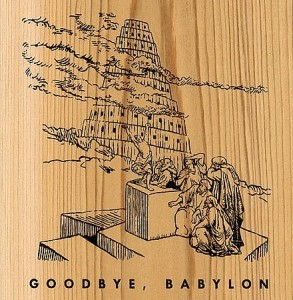 Various Artists – Goodbye, Babylon Dust-to-Digital DTD-01 (2003)
---
It simply isn't possible to consider the history of American music in any sort of objective, comprehensive way without considering its religious music.  As the liner notes quite astutely put it, despite at lot of rhetoric about freedom of religion, the United States has always been a predominantly christian nation of a decidedly protestant variety.  What freedom there was manifested itself primarily in the ability of the evangelical movement, epitomized by the pentecostal (or "sanctified") movement, to lend itself to musical expression in a completely open-ended fashion.  And left to their own devices, these religious movements did indeed construct their own vocabularies of musical texts and performance styles.  It is hard not to be amazed at the music here.
Many of the greatest american folk recordings are here.  From Blind Roosevelt Graves & Brother's "Woke Up This Morning (With My Mind on Jesus)" and "I'll Be Rested (When the Roll is Called)", The Carter Family's "River of Jordan" and "Keep on the Sunny Side", Rev. Sister Mary Nelson's "Judgment", and other gems like Rev. Gary Davis' "I Belong to the Band – Hallelujah!".  Now, many of these songs have already entered the canon through previous compilations like Harry Smith's Anthology of American Music and John Fahey's American Primitive, Vol. 1: Raw Pre-War Gospel.  But this is still perhaps one of the most ambitious gospel box sets yet assembled.
The focus here is on the earliest American religious recordings of the 20th Century, up through the 1940s.  The recordings included actually stretch into the 1960s, but those later recordings are exclusively those that recreate the styles of much earlier times.  So despite the massive size of this set, it bears mentioning that the scope is rather specific.  The modernization of gospel is only implied, most notably by way of tracks from The Silver Leaf Quartette of Norfolk and The Trumpeteers.  The Soul Stirrers, The Swan Silvertones, The Dixie Hummingbirds, and many others of the very greatest gospel acts are mentioned only in the liner notes, and are not represented by any song selections.  One oddity here that shouldn't be overlooked is that this collection is integrated, intermixing white religious songs with black gospel, which certainly does not make for a historically accurate account.  That said, the set's only other real faults are the triviality and superficiality of some of the liner notes, the tendency toward a mere historical curiosity value of the last disc of sermons, and the over-reliance on rather marginal country gospel songs to round out the collection.
This set should be considered like one volume of an encyclopedia of American music.  And even beyond the boundaries of North America.  In Terrence Malick's The Thin Red Line, a group of pacific islanders walk through their village singing a song.  Why do its harmonies sound so much like "Standing on the Promises" by The Tennessee Mountaineers?  That's a big question, and not just in regard to a specific comparison between those two songs.  This set poses many big questions about that evolution and growth of modern music, and where things come together and diverge…