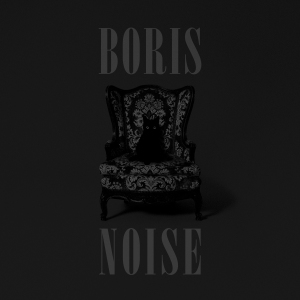 Boris – Noise Sargent House SH-120 (2014)
---
Boris is a band that is hard to put a finger on.  Back a decade or two ago, they revelled in nimble drone metal.  There were one of a rare few bands that had power and finesse.  Then they increasingly went for a more accessible type of music that had them releasing shorter songs, that seemed like songs as such.  This was fine and good.  But after about 2008, Boris albums started going off in all sorts of different directions.  In 2011 they released, almost simultaneously, albums of shoegaze rock, pop rock, and more of their recent brand of indie hard rock.
Noise hardly features two songs in the same style.  It opens with "Melody," a song that could pass for the sort of hard rock/metal that has permeated "hard rock" format radio for the last 10-15 years, the kind payed on ninety something point whatever "X" FM stations–whatever the geography, these stations in the United States always have an "X" tagged to the FM frequency.  "Ghost of Romance" is a little better than most stuff here, with something approaching classic rock riffing but layered in echo.  "Taiyo no Baka" is pure pop, unlike the rest of the album.  It is lighter than everything else, linked to the fabric of the other songs only by the use of echo, here on vocals.  But, it is kind of catchy, and might be the best thing on the album, even if you'll wonder if it is on the right album.  "Angel" is the sort of "epic instrumental" post-rock that was in vogue about ten years ago, the sort of more widely popular sort that Boris seemed to ignore when they made more intense music.  Why return to that stuff now?  "Quicksilver" is late punk, an obligatory change of pace to make sure something punkish makes the cut.  "Siesta," the closer, is a short bit of drone, almost a kind of rushed drone music, and among the group's more forgettable drone tracks.
The main problem here?  For one, Boris jumps from style to style without purpose.  The band seems to be out of things to say.  They jump from style to style not because the jumps say something in and of themselves, or because what they have to say requires a breadth of territory, but out of a kind of boredom.  This is an album that listlessly restates music that was alive some time in the past.  It is like a summary of a conversation that happened a while ago.  There are snippets that are interesting, but it's like remembering only part of a joke from that conversation that is now fading from memory, with the punch line seeming to belong to a context that maybe isn't quite the same as the one of the retelling.  So rather than an emphasis on content, Noise is all about delivery.  The album is slick, professional.  Ah, well, it's still a mess and hard to fathom.  But at least Atsuo's drums sound good, and there are some well-recorded guitar solos, even if none of them get past being flawlessly executed versions of rather superficial moments from the past.  Is Boris getting ready for the equivalents of the "county fair circuit," playing to audiences in isolated pockets wanting nostalgia not relevance?  Let's hope not.  But it might be time to start worrying.